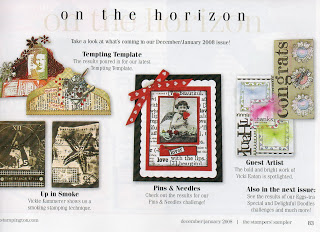 That's my one word for this year.  Ali Edwards, (hail to the guru), started the idea of choosing a personal word for the year.  I've always loved this word at Christmas, why not all through the year? After all, belief in the magic is what creates the happiness in life. What's your word? Come on, try it. It's easier then a resolution, and a great personal mantra.  She compiled a list of words from her comments, so take a look if you need an idea (her link is on the right). A nice little Believe sign will go up in my NEW workspace (lots of new things this year), but more about that in a later post; it's not finished yet.
Speaking of new, I will have a piece in the February/March issue of Stampers' Sampler. I actually found out when I saw my card (the white rabbit) in the ad for the next issue! I'm thrilled because the crown cards are some of my all time favorites.
Another "new" this year - NEW CLASSES for My Daughter's Wish! Man, the ladies I have the privilege of designing with are sooooo talented! I just loved looking through their books and projects last weekend.The classes are really outstanding! I will be teaching a perpetual birthday calendar class Saturday, March 1 at 1:30 and a card class on March 27. The calendar is a desktop model that can be used every year, and has a place to store cards. At the card class, we'll be making LOTS of great birthday and occasion cards to fill the calendar with. It's an idea I had more than  a year ago, and kept meaning to make for myself but never got around to. I actually have a birthday calendar, but I still get cards off late, or scramble at the last minute to make one, so I figured that if I had a year's worth stored with the calendar (and stamps and address labels), I might get them off on time! Ironic - I've had cards published, but I never have a birthday card on hand.