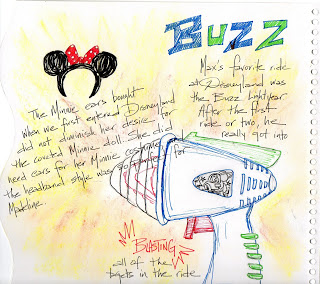 I'm finally posting an entry for
Crusade #17!
This challenge was to create a portable visual journaling kit. I actually keep a very small one in an oversized tin that I've used when traveling. Very simple - a couple of art pens, a pencil, mini tape, glue stick and stapler, a small ink pad, and a couple of stamps. For this year's Disney trip I added a couple more pens and a zip tote with watercolor pencils and a water brush. The pages above were done in October 2007.
BUT, seeing Michelle's kit inspired me to take a second look at the
art bins
. Matt had two for art school, and I've pulled supplies from them, but never really organized them for myself (now that I've stolen them!) I chose the small bin, took out the drafting and modeling supplies, and filled it with chalks, oil pastels, watercolor crayons, and lots of other fun things! I was inspired by Michelle's stash of magazine text to add my own. It makes perfect sense, because I always use found text in my artwork; why not journal pages? Thanks for the inspiration, Michelle!