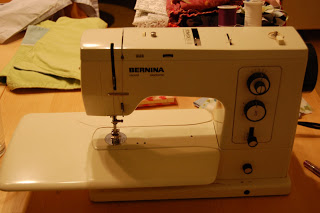 It's sewing machine month at Sew Mama Sew, and they are asking for reflections on your machine. Here's my meme:
What brand and model do you have?
A vintage Bernina 830
How long have you had it?
A few years
How much does that machine cost (approximately)?
One is listed on eBay for $400
What types of things do you sew (i.e. quilting, clothing, handbags, home dec projects, etc.)? Mostly clothes, some home decor and stuffies
How much do you sew? How much wear and tear does the machine get?
I'm sure this machine has seen much wear and tear over the years. I sew in spurts, since I can't keep the machine out all of the time, but I've sewn a lot lately.
Do you like/love/hate your machine? Are you ambivalent? Passionate? Does she have a name?
No name, but I do love my machine. Bernina says their machines are built to run for a hundred years, and I believe it. It is a workhorse - nothing fancy, but runs and runs.
What features does your machine have that work well for you?
I rarely use anything other than a straight and zig zag stitch, but I do appreciate that it can pretty much sew through anything. It's all metal, all power.
Is there anything that drives you nuts about your machine?
It weighs A LOT, so hauling it in and out of the closet is kind of a pain, but that's the only complaint I have.
Do you have a great story to share about your machine (i.e., Found it under the Christmas tree? Dropped it on the kitchen floor? Sewed your fingernail to your zipper?, Got it from your Great Grandma?, etc.!)? We want to hear it!
My mother picked it up second hand for me, because her machine is even older and still going strong. I love the fact that the machine is the same age as me:)
Would you recommend the machine to others? Why?
Definitely. You can't go wrong with a Bernina, and you can get the vintage ones for the price of a new Singer, and it's a much better machine.
What factors do you think are important to consider when looking for a new machine?
The computerized models are very cool, but how many of those features will you really use? If you are primarily sewing clothes and pillows/curtains, you need reliability and power over fancy.
Do you have a dream machine?
A new Bernina would be lovely, but honestly, this machine fits me just fine.