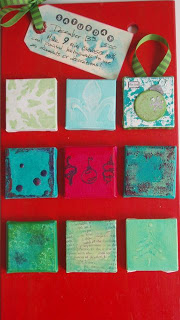 Hey, I'm teaching a class! It's my last class at My Daughter's Wish before it closes, and I have lots of little goodies planned! Call the store at 925-952-4437 if you'd like to sign up! Here's the description:
Mini Painted Masterpieces
It's time to pull out those paints again, play, and even get ready for the holidays at the same time! Casey will show you 9 great paint and mixed media techniques (including one that she used on her piece in the December/January issue of The Stamper's Sampler) on 9 miniature canvases. The canvases can easily be finished with drawings, collage or embellishments for thoughtful holiday gifts or ornaments. All class participants can stay for the Saturday night crop for FREE, and Casey will be there with her little bag of goodies to help you complete your masterpieces.
Saturday, Dec. 13 at 3:00, $32