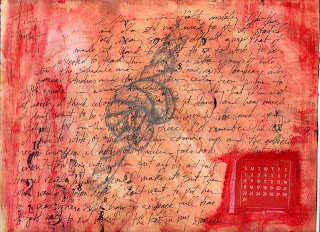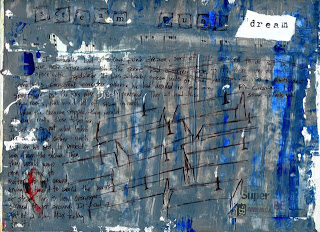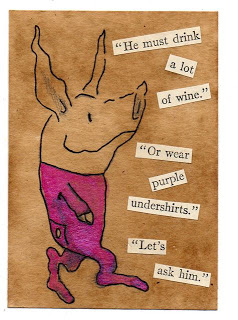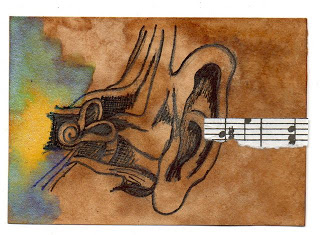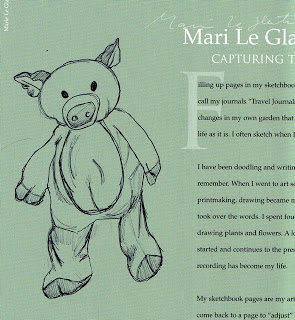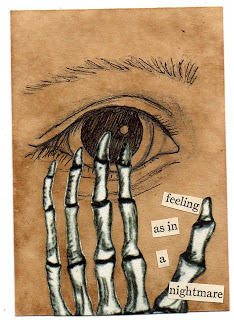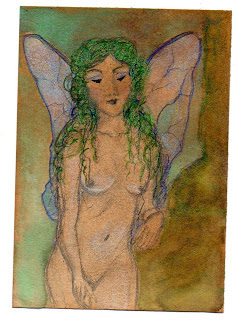 So it has been awhile again, hasn't it? The start of school this year has taken a lot out of me, I must admit. The last few days, however, have been a flurry of creation. Journal pages, ATCs, and most importantly, a lot of time sketching. I really love illustration. It simply makes me happy to draw. But I have long harbored a fear - a fear of the pen. Yes, I've done tons of ink illustrations, but always in pencil first. Matt had a drawing instructor that made them fill a sketchbook with ballpoint pen only. Ballpoint pen? I could never sketch in ballpoint pen! The thought just terrified me. So, except for the doodles made during meetings and staff development days, I stuck with pencil. Yesterday, however, was a breakthrough. 
Yesterday, I sketched in ballpoint. I was reading the Signatures Art Journal book while Max was in gymnastics class (great book, by the way), and I felt inspired to sketch Piggy. So right there, in the book (I am a frequent book defacer) I drew in ballpoint. And I liked it. Matt thought it was part of the page itself! 
That led to a flurry of sketches for my next ATC exchange. The theme is "w", which I have interpreted as whatever - whatever is on my desk, or my mind, at the moment. I started with rusted paper using malt vinegar (from the
Mixed Media Monday
forum, and numbers are this week's theme), and  Twinkling H2Os for color. I haven't played with those much, but I sooooo enjoyed it! Unfortunately you can't see the iridescence in the scans, which is too bad, because it's lovely.
I am also sponsoring the challenge for My Daughter's Wish this time. It's the ugly paper technique I posted a few months back, but any use of your "ugly" paper will qualify! Check it out
here
, and you could win a prize!
So, tomorrow it's back to work, with IEPs to write, papers to grade and fires to put out, but maybe tonight I can draw a few more. A little more time in Wonderland, please.