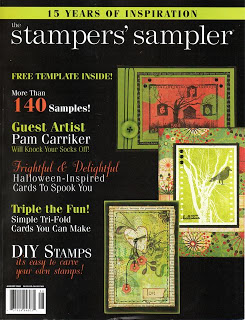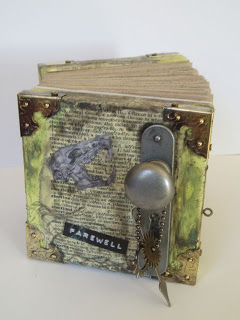 Okay, so the cover came out last week, but I was waiting for the article, too, before I posted it. The article is not on the Stampington webpage yet, but I do know it is in the works (the editor emailed me for a headshot - gotta love that. A little rock star moment, in my head at least). So here it is. If you know my style, you have probably guessed that mine is the bottom card with the heart; text, tearing, inking... all my regular stuff. It is also featured on page 60 of the magazine. I feel very honored to have been selected at all, with the redesigning of the magazine. I LOVE the new layout, it is very elegant, but there are also fewer cards showcased since the images are larger. It makes it an even greater honor. Check it out - it is a really fantastic issue, and I'm not just saying that because I'm in it! 
My second great thrill lately was the chance to take two classes from the super craft rock star, Mr. Tim Holtz, at
My Daughter's Wish
last weekend. Both were book classes - a canvas book with sewn signatures and a clear flip book where we learned to paint with alcohol inks. The alcohol ink was very cool, but I think I need to deconstruct that book and put my stamp on it. The other book is pictured above, and I LOVE it. The cover was originally just the dictionary page and a key, but I took it home and played a little. The green and black color scheme reminded me of Halloween, so I added the mouse skull sketch and some cheesecloth by reheating the beeswax on the cover. More cheesecloth and grungeboard were added to the back. Tim's new keys are great, but the one I got in class was copper with the word LOVE on it, and it just didn't match, so I used his gears and spinner instead. I took it back on Saturday to have him sign the inside. Okay, so I had to geek out a little over him, but just a little! He is a really great teacher, and although I loved the projects, I think I liked watching him manage the class even more. Even though I've been teaching middle school for 14 years, teaching adults is a different beast. I really enjoy it, though! How fabulous it is to have a class full of people that actually WANT to be there!