A Pinterest posting led me down a blog path that ended with the mention of the book the
No Excuses Art Journaling book by Gina Rossi Armfield.
The method looked interesting and I could borrow it for free on our Kindle Unlimited, so I thought I'd give it a try. Basically, it gives structure to your art journaling - things to record/draw each month, as well as a few quick daily and weekly projects. It's still pretty loose, but I think that little bit of structure has given me more incentive to practice more regular journaling (so far, but I've just started so we'll see how this goes). She recommends using a weekly planner as your art journal, but since I'm just starting this in September, I chose a partially used
Moleskine
sketchbook.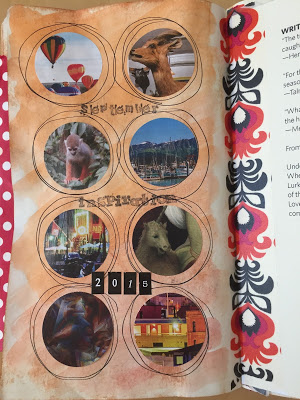 The collage inspiration for the month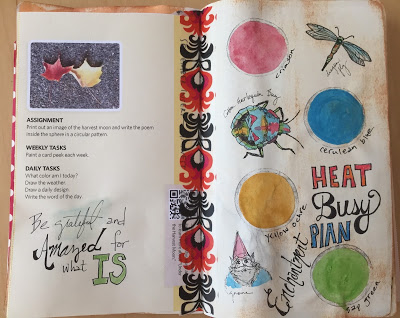 Color, word and image inspiration for the month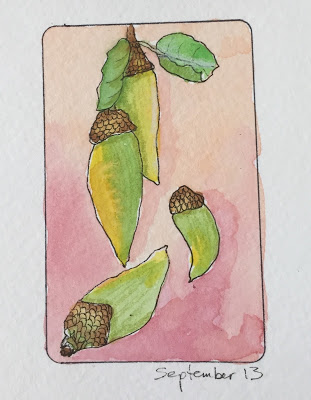 Weekly watercolor card (and the weekly art journal challenge #1 for my art classes)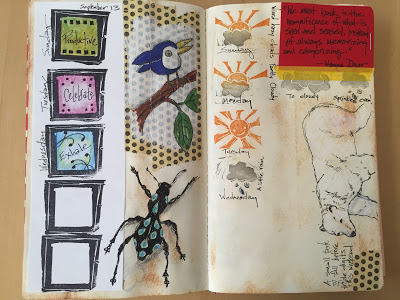 Page in progress
So, what is the difference between an art journal and a sketchbook? For some, nothing. For me, I tend to add more personal writing, quotes and ephemera to my art journals, and explore with more mediums. My sketchbooks tend to be drawing focused, and I usually stick with ink or pencil. However, survey 100 different artists and you'll get 100 different answers. Whatever you call it, just do it. The important part is getting that pen (or pencil or brush) to paper!