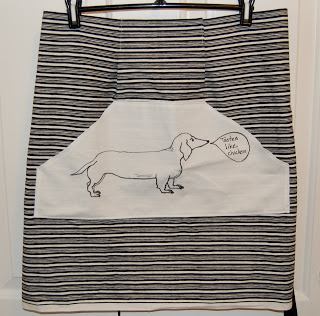 I'm a huge fan of Amy Karol (of
angry chicken
fame) and I've always wanted to participate in her apron making/challenge blog,
Tie One On
. I have finally gotten my act together and finished a black and white apron for the January/February challenge. It's a simple cafe style with a kangaroo pocket from Amy's book,
Bend the Rules Sewing
. Yes, I had to photograph it at night again, and I had just used it to make dinner, so it's wrinkled, and I was too tired to make anything look nice, and I could give you more excuses, but what I am trying to say is I apologize for the shot. Of course, I had to draw on it (especially since the theme was black and white. That just begs for ink, doesn't it?), and little Miss Heidi seemed like an appropriate choice. I'm quite happy with how it turned out - I could see these as potential Christmas gifts. I have two more apron patterns cut out, both from
Sew Liberated
, and I'm hoping to steal some time while the kids are at school tomorrow to work on them. Yes, both actually at school, amazing! It's ME who's had the cold this weekend! But since I have been pretty useless these last two days, the house could use a good cleaning... it's always that tug of war, isn't it? I should just put blinders on and sew!
Another little bit of excitement to share... there's an interview with yours truly in the March/April issue of
Somerset Studio
, and one of my Alice In Wonderland pieces! Wahoo! My first interview! You'll have to get the issue to see the full piece, but it's well worth your trip to the bookstore. This is a really fantastic issue, and not just because I'm in it! The diversity of styles represented is amazing, and the pieces in this issue are out of sight. Really. You'll have to see it! And maybe buy one for your mom or best friend, too. Just a suggestion.