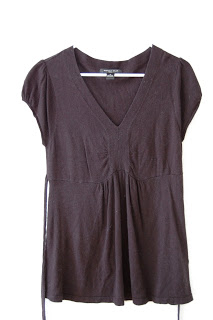 The sweater. Dare I say that I actually found this one in the street? Lying in the road in front of the house, and extra large women's silk sweater, abandoned. So I washed it on hot and stuck it in the dryer, not knowing how it would turn out. It washed up beautifully, and shrank just a bit. So what to do?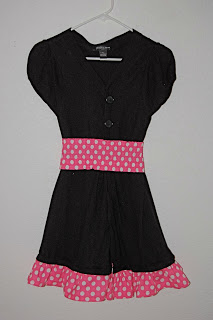 Make a dress! I was hoping to have a picture of my daughter wearing it, since black is so difficult to photograph, but 9 year olds can be difficult to photograph, too, especially when they don't want their picture taken. To convert the sweater to a dress, I cut it apart down the center. To take up the shoulders, I ran a few rows of elastic thread near the seam. I trimmed a bit of fabric from both sides of the opening and seamed it. I used snaps for closures and added the oversize buttons for decoration. A pink cotton ruffle was sewn on for length, and the belt is made from a panel of the same cotton sewn with elastic thread. I do love the mix of the cotton and the sweater materials.
Sewing projects are bursting out of the closet and a few illustrations for a series I'm planning have made it to the sketchbook, for the most part, I've had little time to do anything creative. We've spent two months going to different doctors and having loads of tests done on my son, and while it finally seems we have found someone who can really treat the cause and not just his symptoms, it has taken, and continues to take, much of my time. So my posts are erratic, yes, and they may continue to be for awhile, but hopefully summer will bring a little more calm and a lot more time for art.