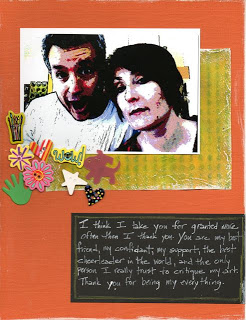 Whew! Summer's here, and I've been able to play a little. I sent off a package to Somerset at the last minute (but still by the deadline!) for their black and white call. I am finally starting to get back on track with projects for the Artist's Circle Yahoo group, and we're doing Beryl Taylor again. Happy about that one, since I was too busy to play round one. I actually ordered
Mixed Media Explorations
this time, and I'm so glad I did! Beryl gives great examples, and more importantly to me, lots of instruction on technique! I highly recommend it. I do want to give a brief plug for my upcoming
mini-album class on June 21.
Check it out at the right!  Okay, on to the challenges!
First up, Laura's wonderful Wishchick challenge for
My Daughter's Wish
- PAINT! Is there anything better???
GPP Street Team
has crayon rubbings this month, so I used some paper I made for that on my layout. I used a lego base for the pattern, then covered it with yellow paint. I glued some hand dyed paper towel over that, then edged it with white crayon.  I also edged the LO in white paint. Check out her fab pages and challenge
here -
you could win a RAK! The topic - thanking someone - is catalyst #13 at
Creative Therapy
this week. So many people came to mind, but I settled on my husband. I think I usually give him more grief then thanks, but he is the light of my life. Thanks, babe!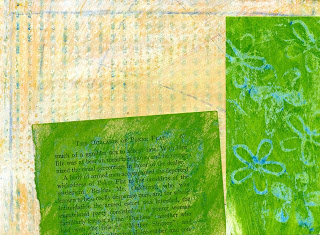 A few samples of rubbings - I've just started to play with this, but I find I prefer just the crayon texture under paint to an actual design. It gives a great background layer! I think I'll make several texture papers to keep on hand for projects. The card was made from a rubbing I took from my brush cup! It's a fabulous little ceramic cup with glazed fish around it that my brother gave me. I used a paper scrap from my desk that had ink remnants on it and embossed over it. It fit so nicely with the By the Sea theme at
Mixed Media Monday,
so I made a simple card.
Now I really must clean my house. Art and house keeping seem to be diametrically opposed. I try to ignore it when I'm working, but after awhile the clutter (not to mention the dog hair on the floor) crawls up my spine like an army of red ants and I have to submerge myself in domestic duties. But maybe I'll make more more sheet of fabric paper first...