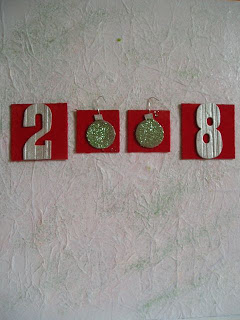 Last year I followed along with Ali's blog and made a daily album for December. It was only 6x6, in my favorite Cosmo Be Good papers, and it was so easy to maintain each day. The whole family loved it. This year, Ali is starting another round. I took her advice, and gathered up all of my holiday papers and embellishments. I found some Christmas papers stashed in my patterned paper file, and pulled a bunch of light green stripes and polka dots that someone gave me YEARS ago. It was a large pile. Enough for the whole month. So I decided to make this a "green" album and use only the supplies I had on hand, or ones I could make. I had two book boards  from an old portfolio, so those became the cover. Many of the papers I had were very light, and few were two sided. Crazy as it sounds, I decided to glue them together with a cardstock core (the album will be held together with loose binder rings, so I won't be using page protectors.) It actually went faster then I thought. I simply used a glue stick, some old icky pastel cardstock, and a brayer to make sure the pages were on snug. It is a hodgepodge of designs, so for the numbers, I used various pieces of chipboard and grungeboard for the frames, and painted them all the same red.
The cover is made from layers of white tissue applied with gesso. Before adding the fourth layer, I sprinkled green glitter on the third layer and used matte medium instead of gesso. The background squares are Grungeboard covered in crushed velvet flock from Doodlebug (very cool stuff), and the numbers are also Grungeboard. I inked the 2 and 8, and applied the green glitter to the zeros to make the ornaments. The tops are pieces of Grungeboard cut from the background sheet and inked. 
I liked the idea of binder rings, so I could have a fat album and add pages or memorabilia during the month. I don't have many holiday elements left from last year, so we'll see how this album evolves, and if I can stick to no new purchases! I'll be posting completed pages during the month of December.
So, are you with me? Check out
Ali's book
(beautiful, of course!) and some of the pictures on the Flicker group. I was never satisfied with my Christmas layouts until I tried this mini-album concept. It is definitely the best way to record the season! If you have started one yourself, share a link so we can see! If you'd like more ideas for Grungeboard, check out my tips on the
blog for My Daughter's Wish!