I've been knee deep in projects this week - a Thanksgiving book (you can see the pictures and tutorial on the MDW blog,
here
), a new art journal for an online class, some fiber bookmarks for a trade, an altered jumper, another altered book, and since the sewing machine is out, I finally stitched a little skirt from a vintage tablecloth to protect my beautiful desk chair. (breathing now...)
Since the theme this week for
Mixed Media Monday
is body parts, I thought I'd share my new journal page from the Christmas journal class: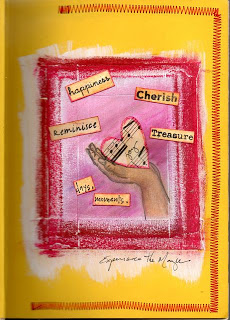 and a sketch I did for my Alice In Wonderland paper dolls (I sent those in for publication, so no pics of those yet). I didn't end up going with this Alice face, but I still like the sketch: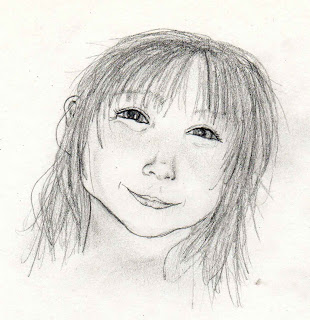 I suppose that will have to be all for now - the kids have little gift certificates from Build A Bear for their stuffed animal's birthdays (yes, their STUFFED animal's birthday - great marketing!), and the day off from school, so a trip to Build A Bear is in order. I hope my pocketbook survives the trip!