It's no secret that I'm a wanna be hippie mama, lovin' my homemade cleansers and altered old clothes. I'll also be the first to admit that I have a long way to go on the green scale, but I try. One wonderful aspect of green living is the frugality, and since I am now paying for private OT for both kids, frugality has gained more importance in my house. In honor of Earth Day today, I thought I'd share just a few upcycled projects from around my house:
I love to reuse fabric! Old clothes, table cloths, curtains, sheets can not only be repurposed, but existing seams and trims can be utilized to cut down on sewing time! The tote bag and scrapbook storage bags were made from vintage table cloths and scrap material.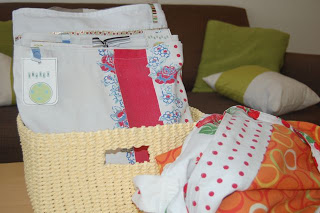 This slip case and scrapbook were made from my first iPod box.
The decorations from Max's birthday party are now bedroom decor. 
Due to both frugality and philosophy, I've challenged myself and the kids to see how green we can be this summer. Today Max planted the container vegetable garden he received for his birthday (he loves to garden!) Compost bins and solar ovens dance in my head - let's see if they end up in my backyard!