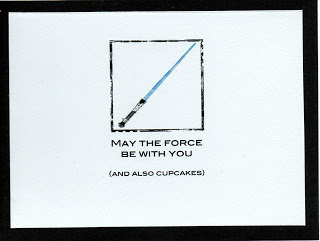 His party is, obviously, a Star Wars theme. I had originally designed an invitation with a cool cartoon image of Luke Skywalker (Muggs style), holding a lightsaber, but when Max saw it the next morning he told me:
"No, mommy! It's all wrong! I only want a blue lightsaber on there, that's all!"
While I like the design, I think it looks a little sophisticated for an almost five year old. But that's what he wants - simple. One game. A jumpy house. Lightsabers. No costumes. Is her really only five?