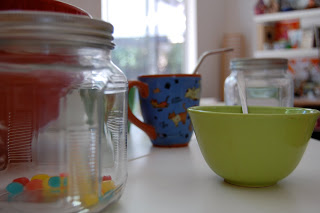 Yes, they did have ice cream for breakfast this morning, even with a few jellybeans or chocolate chips on top. It is almost the end of our summer here, so you have to enjoy it while it lasts, right? Here in allergy house, our ice cream is more coconut cream, but fabulous nonetheless. It's such a simple and actually pretty healthy recipe (minus the jellybeans, of course), that I thought I'd share it with you.
Coconut Ice Cream:
1 can unsweetened coconut milk (not the light version)
approx. 3 cups cold vanilla coconut milk (the kind in the carton)
1/4 - 1/2 cup evaporated cane juice (sugar)
1-2 tsp. vanilla
freshly grated nutmeg
In a 4 cup measuring cup, add one can coconut milk. Add enough vanilla coconut milk to make 4 cups. Stir in sugar to taste (the coconut milk is pretty sweet, so you don't need too much), vanilla, and nutmeg. I guess I grate around a teaspoon - I've never measured. Pour into ice cream maker. It should be ready in 20 - 30 minutes.
I have an electric ice cream maker that I received as a gift many years ago and I LOVE it! You have fresh soft serve ice cream in less than 30 minutes with hardly any work. I highly recommend one.