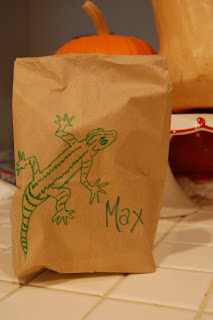 Yes, this is the extent of my illustration time each day - drawing on snack bags. I guess that explains why it has been so quiet around here lately! I plan on refashioning Max's duvet cover this weekend, so I hope to have a tutorial up for Made By You Monday. I also have 4 pairs of fleece pants, 5 pajama pants and a nightgown cut and waiting for the machine to come out of the closet! I wish the forecast had rain instead of 75 degree weather this weekend - it makes for much better sewing conditions!
I have a whole new stack of books from the library, Amazon and Bookswim on the table. Here are a few new reads and other links I've been enjoying lately:
Hold On to Your Kids
, a fascinating look at our peer centered culture. I think every parent should read this one.
Love Soup
- I love Anna Thomas' cookbooks, and this one is perfect for the season!
Felt Wee Folk
- even Matt thumbed through this adorable how-to book. They would make great Christmas presents!
Wax Leaves
- on the schedule for today. A great excuse to use my wax pot.
Herbal How-To Videos
- I just placed big orders from
Mountain Rose Herbs
and
The Bulk Herb
store to gear up for winter. I think I will need to clear out at least one more shelf in the pantry! These videos from Shoshanna, the owner of the Bulk Herb Store are informative and entertaining.
This post
from SouleMama, which inspired a reading nook in Madeline's room
These leaves
from Made, which are also on the sewing list for this weekend
Much has been created for our homeschooling around here, but my art table feels lonely and abandoned. Please, share what you've been working on, or discoveries you've made, or what you're reading! I'd love to see!