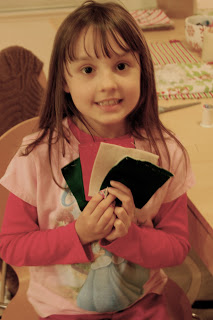 Simple Homeschool
has been posting descriptions of typical homeschool days from various families, and it has been so interesting to read how others approach instruction. We only started homeschooling my eight year old daughter this year, and after a few months of trying different approaches and routines, we have finally settled into a good rhythm with a modified Classical approach.
The beauty of homeschooling, for me, is being able to craft a program specifically for my daughter's needs. She thrives under structure and routine, and the direct approach of the Classical method has been very effective for her. Math has always been our sticking point (and one of the reasons we left public school), and overcoming her math phobia has been my primary goal. Two months ago, she requested that all of her math be taught through games. Now, she not only learns through math games, but she's started to create her own, too. This is how a day typically functions:
We begin at 8:30 with grammar and writing. She's a morning girl, so I used to try and do math first thing, thinking I'd have the best attention. It didn't work. After testing different subjects at this time, we finally settled on grammar and writing. Madeline has fine motor problems, so writing is a challenging task for her. We usually use the previous day's narration for her writing. We are using
First Language Lessons for the Well Trained Mind
for grammar instruction. It's a traditional approach, no bells and whistles, but it works and she enjoys it. It includes memorization work, usually a poem, which I think is fabulous.
After about a half an hour we move on to reading. I read novels to her, and she also reads on her own. She usually dictates a summary of her silent reading, which becomes the next day's writing work. Right now, she is reading Little House In the Big Woods, which I read aloud to her last month. We are using the
Tags of Time
unit as a comprehension check. She makes a tag for each chapter, then glues the given sentence strips in the order they occurred in the story. I've gathered supplemental materials to go with the book, our favorite being
The Little House Cookbook
, and we are engaging in projects such as a tea stained pioneer dictionary (for vocabulary) and craft projects inspired by the story.
I received an iPad for Christmas, and Madeline has embraced the world of digital books. Although she doesn't have a vision problem, she prefers large text books (I think it has to do with visual clutter on the page). The electronic format allows her to read her favorite series in a large text format. I love that I can download a new book for her in a few seconds, but I just wish they were a little cheaper! (Really, without printing and transportation costs, how expensive can digital books really be for publishers?)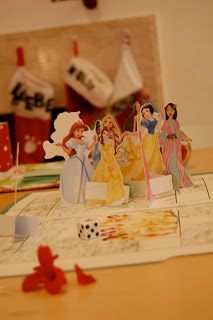 After an hour of reading, it's finally time for math. Here we break away from the Classical method and work exclusively with games. I have a few purchased board games, but most of the games are homemade. With dice and cards you can create dozens of elementary games, and with downloaded board game templates, the possibilities are endless. I usually create the cards to go with the board games (which correspond to whatever skills we are working on), but now Madeline has begun to make her own games as well. I love it, she loves it, and she is actually beginning to feel good about her math skills. It's been a long, long, rocky road, I tell you.
Math usually lasts about 45 minutes, and then it's time for a break. After snack we move on to spelling and cursive practice. I chose to use
Spellingcity.com
instead of the workbooks suggested with the Classical method, because of her writing issues. This way she can practice her spelling without a pencil. She is learning cursive as part of her occupational therapy, and we use the handwriting Without Tears method. We also use a cursive writing app on the iPad where she traces letters with her finger instead of a pencil. Combined, these probably take about 20 minutes.
Our last subject for the day is either science or history. We are studying chemistry this year, with a heavy emphasis on lab work. Our history is ancient world history, my favorite subject and also what I teach in the public schools. I am using the
Story of the World
as our basic text, and supplementing with the mountains of resources I have collected over the years. Science days are Mondays and Wednesdays, and history is done on Tuesdays and Thursdays. We also attend a science club for homeschoolers on Wednesday mornings. These lessons can last anywhere from 45 to 90 minutes, depending on the project and her attention span.
Fridays are usually a little lighter on the academics, and can include art, music or Italian. Learning Italian was Madeline's idea, and I keep a very loose approach to it, using videos, audio programs and booklets from
enchantedlearning.com
We basically work on it whenever she wants to. I am hoping to keep her interested in it by making it a fun, no pressure activity.
That sums up our day. We are usually finished by noon or 1:00. Interspersed with academics I throw in short exercises or
brain gym
activities to work on her sensory and motor issues. The afternoons are left to girl scouts, occupational therapy appointments, and mainly, just play time with her brother and neighbors. It's such a welcome change from the two hours of homework and tears that filled out afternoons last year when she was in public school. What a difference!