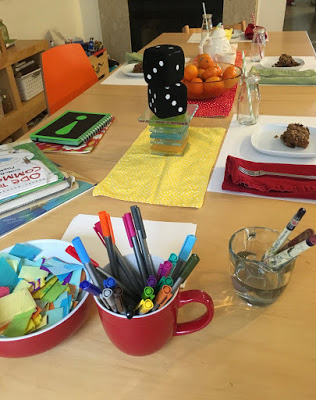 It was a mad tea party for breakfast today! It is our last week of an amazing poetry class from
Brave Writer
, and one of the lessons involved alternative forms of poetry. I devised two new forms to play with this morning, as it can be a little hard to inspire the desire to work on writing when it's 8o degrees outside. Baked oatmeal with chocolate chips doesn't hurt, either.
We started with a little art project. We used plain water to wet a small piece of heavyweight paper, then added a squares of colored tissue paper, with a little more water brushed on top.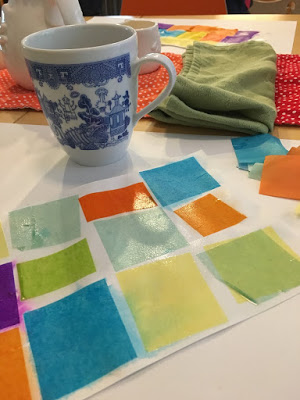 When it was dry, we took off the squares to reveal the colors that had bled onto the paper.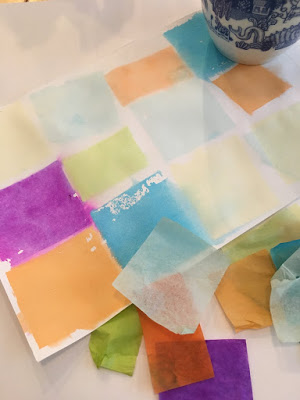 I assigned a part of speech to each color, and we ended up with two colors being nouns, two adjectives, one verb and one the choice of adverb or verb. The result: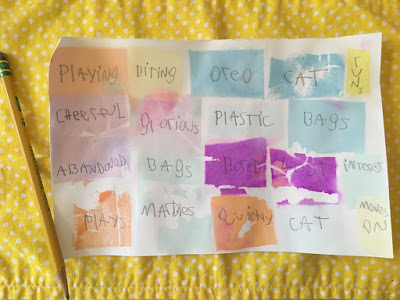 It was challenging at times to come up with a word that fit the poem and parameters, so for younger kids I would probably have a jar of nouns, verbs, and adjectives that they could choose from to help compose their poem.
Our second poem was a bit of a game. I had a pair of large stuffed dice (bigger is better when you play!) that determined the number of lines and syllables for the poem. First, I had them roll one die to determine the number of lines for the poem. Next, they used both dice to decide the number of syllables for each line. So for the first poem, Max rolled a five for five lines. Then he rolled the dice five times to determine the number of syllables for each line. Of course you can use regular dice, but the stuffed dice can be thrown at the wall, the window, or rolled across the floor, which is much more fun than the table.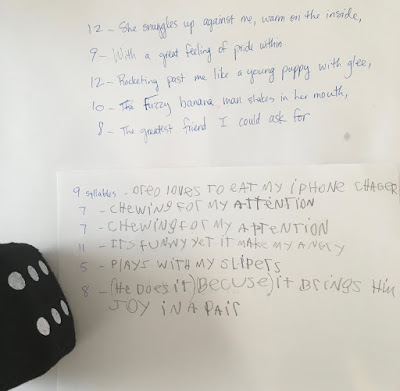 Both of the kids reported that they enjoyed creating poems this way, and even the three year old tried his hand at it. Well, it actually turned into a "Super Mario course with buildings and crocodiles", but we never know where a poem will lead us, do we?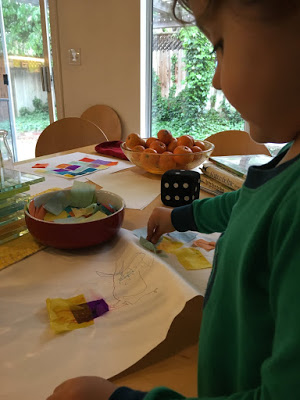 April is National Poetry Month, and there are two fabulous resources to celebrate with your kids. The
Academy of American Poets
has many resources for parents and teachers, including a free poster and a list of 30 ways to celebrate. Julie Bogart and her team at Brave Writer have created a fabulous new site celebrating poetry tea time and the family. There are poet interviews, recipes, ideas and resources, and right now there is also a contest! Check out #poetryteatime and #PoetryTeaTimeContest on Instagram for inspiration, and don't miss the site,
poetryteatime.com
.