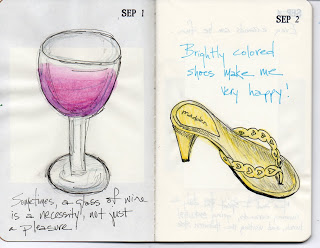 I didn't think I'd participate in
LSNED
this year, since September is a crazy busy month for us, but when does that ever stop me from piling it on? I'm taking a very no stress approach - a tiny Moleskine notebook, a small sketch or photo, and that's about it. I've already skipped a couple of days and haven't done Tuesday's entry, but oh well. I'm just surprised I've gotten this far! Is anyone else playing? I do love
Shimelle's
classes. Her lessons are always so well written and the photos are inspiring. If you've never taken an online class from her, I highly suggest you try one. As an added bonus, her annual classes, such as LSNED and Journal Your Christmas are lifetime memberships. Once you buy the class, she automatically sends you the prompts every following year, free of charge. There is always an active forum, too.
I made a few small changes to four pieces of clothing that have been
rotting
sleeping in my closet for way too long. I ran out of light this evening to finish the after pictures, so I'll save those for another post.
I had a request to post a picture of the seat protectors, from my
tutorial
, as I use them in the car. Sure! It has been added to the original post.