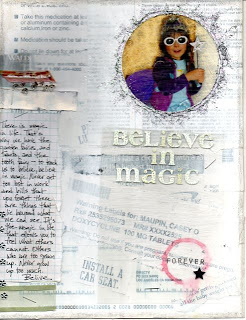 Just got word that my card will be featured on the cover of the Aug/Sept issue of Stampers' Sampler! I even get a short article on their web page! I screamed so loud when I read the email that my kids thought something was horribly wrong. They were not amused when I informed them that I was screaming for joy, and even less interested in why. I guess drama is more appealing!
Don't forget to check out my challenge this week for
My Daughter's Wish
. You can use any medium you'd like to participate, even a written entry on your blog. Also remember to leave a comment
here
for my RAK! The deadline for both is Saturday, June 21.
The page today is for both the
Creative Therapy
theme this week and
Scrap Stars
. I love the topic for Creative Therapy this week - one lesson you'd want to teach your children. It was hard to narrow it down to just one. I'm pretty confident right now in their intellect, and sense of responsibility for their age, so I decided on magic. Yes, I said magic - the magic in life. They see it now, everywhere. We have garden fairies that live in the backyard, Santa came at Christmas, the Tooth Fairy made a visit last week, and seeing a dragonfly or butterfly is a mystical event for them. Unfortunately, too many adults have lost that ability to believe - to see the magic around them. I don't want them to ever forget that it is there, whether you are 5 or 50, it's still all around you. 
While I'm not such a bling girl, the platinum theme from Scrap Stars certainly worked with this page. Ooooh, it's Top Chef, So You Think You Can Dance and Ghost Hunters night! Let's see if I can wade through the projects on my desk and actually catch one of them! ;)