Not much art happening around here lately - more painting the grout in the kitchen, taking the kids to OT, reading about food allergies and nutrition and trying to plan Easter and Max's birthday. I did get a wonderful package in the mail yesterday, all the way from Tasmania: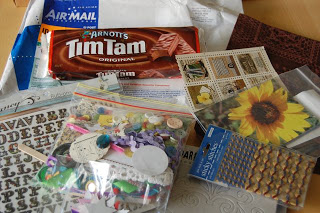 It was from my blog friend,
Sharmaine,
, who whips together these amazing, to die for layouts every day! I am in awe. Having these new goodies is making me itch to get back to my table, and the kids were thrilled to have chocolate cookies all the way from Australia. They have a particular fascination with the country, and at least once a day will ask me what the people in Australia are doing at the moment. They are fascinated by the time difference. Thanks, Sharmaine!!
Now that we are paying for two private OT sessions a week, I have taken a renewed interest in budgeting. Through
Ali's
site I found
simplemom.net
, and have spent a few nights exploring the current and many past posts. Recently she posted her dinner menu for the entire month of April, and it intrigued me. I usually meal plan only a week at a time, and loosely. She themes each nights (ie - pasta on Mondays, stir-fry Tuesdays) which I immediately stole. Max has had such a difficult time with dinners and transitions lately, so this seemed like a great way to address both. Since a few Facebook friends have asked, here is our menu for the month:
Mondays - pasta
Tuesdays - Mexican
Wednesdays - chicken
Thursdays - soup/salad/sandwiches
Friday - pizza
Saturday - pork or beef
Sunday - leftovers
April's Menu (with links to on-line recipes)
6 - spaghetti
7 - soft tacos or beef fajitas
8 - BBQ chicken with my special sauce
9 - grilled cheese and salad
10- pizza (trying Bob's Red Mill gluten free mix)
11 -
flank steak
and rice
12 - Easter dinner - ham
13 -
zucchini pasta carbonara
(I made a light version and it was still super good!)
14 -
chicken and summer veggie tostadas
15 -
honey glazed chicken stir fry
16 - chicken noodle soup and salad (my concoction)
17 - pizza
18 -
maple pecan pork chops
and
apple hash browns
19 - left overs
20 - Max's birthday choice
21 - nachos
22 - BBQ chicken again (Matt's favorite)
23 - grilled turkey or ham sandwiches
24 - pizza
25 - beef and veggie stir-fry over rice
26 - left overs
27 -
chicken fettuccine
28 - tacos
29 - crock pot Italian chicken
30 - left-over chicken sandwiches with artichoke hearts and feta
It is very SPD friendly and kid friendly, but it works for me. I keep the list in a binder that has my iCal print-out for the month, household stuff from
Fly Lady
, budget info and plans for any home/family thing I'm working on for the month (like Max's party). This way I have everything for the house in one place. A big shout-out to
simplemom.net
for the idea, as well as several of the recipes. You should go check it out now - not only is it a great site, but she's having a Croc give-away. And the spring Crocs are actually cute. Cute enough that, fashionista snob that I am, would actually wear them! Go take a look
here!