I found this in my mailbox this afternoon:
Now, I don't subscribe to Take Ten, so I knew I must have gotten a card published. But I couldn't recall sending one in, and we were late for gymnastics, so I couldn't take a peek. Finally, at the gym, I was able to find this: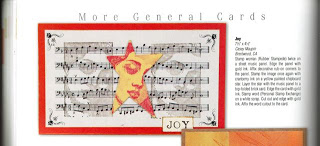 This was one of the first cards I sent in for publication - at least two years ago! What a nice surprise! I looked through the issue and as I closed it, I found this one the back:
There, the ad for the current stamping magazines. And I have cards in both, including the cover. It feels good. Yah, I'm tooting my own horn. But it's my blog. Toot, toot!
(why is the text underlined? dunno. not for the emphasis, really! Blogger is acting up again)