Did you hear that great sigh of relief? It's been a challenging school year, and I am so very grateful for the start of summer vacation! It's always hectic at the end of the school year, so I didn't have time until now to do
Lisa's fabulous ATC challenge for My Daughter's Wish
. I cheated a little on this one - I didn't have an accessible childhood picture of myself that fit the theme, so I used one of Madeline instead. I had a little fun in Photoshop with it (hurray, just got my new Elements!) and then added the ever present paint and text.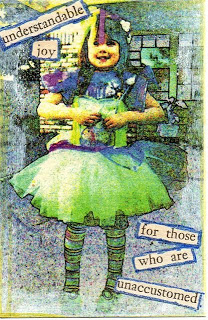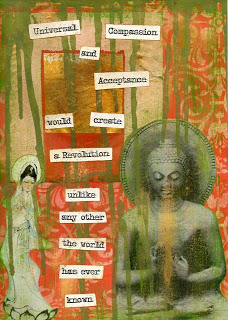 The catalyst this week for
Creative Therapy
is if you could make a big impact on the world, what would it be? I had planned to write a long entry about my thoughts and feelings on this subject, but as the piece came together, in true Buddhist tradition, it seemed that simple was better. Last week's
Step Outside Your Box Saturday
was pint drips, and although I played with drips on some patterned papers, I never posted any. Drips seemed like the perfect touch for this one, so I used watered down acrylics and a dropper to add them. 
Breathe in. Do you smell it? Jasmine, water, paint, wine coolers, farm fresh produce from our own little town, fireworks and sidewalk chalk? Smells like summer!