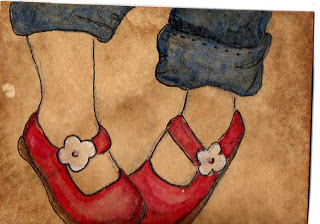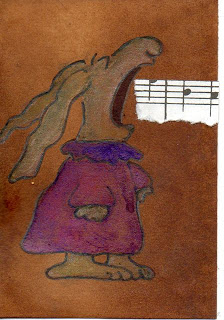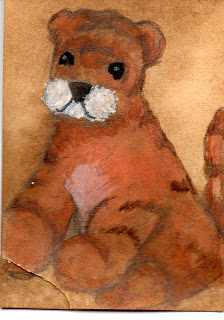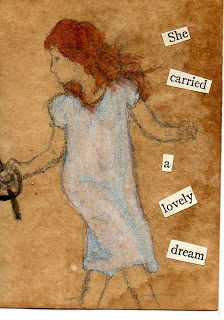 Whew! (that starts with a "w", right?) I have finally finished my 20 ATCs for this month's exchange. The theme, as I mentioned previously, is "w", which has now morphed from "whatever" to "whatever the hell I want." (You'd feel the same way, too after making 20 different ATCs.)  I can say that I'm very proud of the lot.
Mixed Media Monday's
theme this week is nature, and I'm sneaking it in here with the sunrise and tiger because I do want to mention again the rusty paper technique I learned on their forum. I really loved illustrating over it - it has such a unique, beautiful tonal range. Thanks, Diane!
Creative Therapy's
catalyst this week is fear, and as I've stated before, drawing in ink was a huge fear of mine. HUGE. That may sound silly, but I've spent the years working in looser mediums - pencil, paint, pastels, and the thought of that ink line just scared the shit out of me. Pardon the language, but it's true. So I've been filling my ink journal, drawing ATCs, sketching in pen right in my copy of
The Creative License, by Danny Gregory
(LOVE it!) and I can now say, I am no longer afraid of ink. In fact, I find I am reaching for a pen more often then a pencil when I sketch. I'm even liking some of the people I've drawn. In ink. No pencil. It still kinda amazes me. I have a long way to go, but lesson learned. Just do it. and do it. and do it...
p.s. - You still have time to post for the Ugly Paper challenge on the MDW blog! I'll be giving away the RAK on Sept. 7.
Check it out here!