Despite my best intentions of always having a reusable bag with me, there are times when I forget, and I end up with another pile of plastic bags. Since I've made a cute little scrap fabric lint bag for the laundry (that tutorial next week), I don't need them as trash bags anymore. What's a girl to do? Make cards with them, of course!
You will need:
Ranger alcohol ink, blending solution, plastic bag,
cardstock, stamps, archival ink (or Staz-On)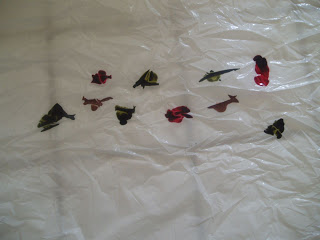 Directions: Drop a few colors of alcohol ink on the plastic (note: regular ink will NOT work. Alcohol ink is made for non-porous serfaces such as plastic and metal).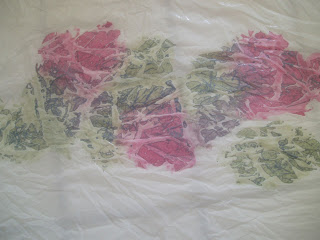 Fold plastic over to sandwhich ink and spread with your hand.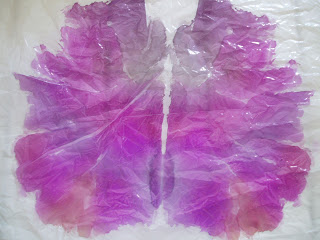 Open and let dry. You can crinkle the plastic before applying the ink for a more distressed look.
Now the real fun begins. You can use the plastic as a background for cards or scrapbook pages. The colored plastic is semi-translucent, so here I glued it over a piece of patterned scrapbook paper using gel medium. Alternatively, you could wrap it around a piece of cardstock and tape it securely on the back. Although you can melt plastic bags, I try to avoid using heat with plastic, as it releases those nasty toxins. I finished the card with two of my stamped figures cut from cardstock, a painted cardboard heart and a chipboard accent. You can stamp directly on the plastic using Archival ink or Staz-On. Several cards can be created from just one plastic bag! Junkmail art journals, plastic bag cards, and next week a bag made from sewing scraps... I think discards are becoming my favorite art supply!