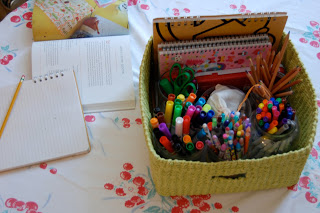 Charlie Brown's black little cloud is still following us around here, with the littlest one still recovering from bronchitis. Hence, I've spent A LOT of time at home, reorganizing this and re-purposing that. One of my daily frustrations is the kitchen table. It's a very buy place - the kids eat most of their snacks and meals there, do homework, art projects, sometimes the laptop ends up there, or a pile of current reading material... you get the idea. We always keep a jar of pencils/colored pencils on the table, but since Easter, more art supplies and sketchbooks have decided to roost here as well. However, I love having that stuff out for the kids, because several times a day they drift over to draw a picture or write a card. I think I've finally come up with a solution - the portable art basket. I actually have four of these baskets in the kid's craft supply cabinet, filled to the top with paper, crayons, markers, glitter glue and such. Inside the tabletop basket is a curated selection of those supplies, organized by recycled jars, and space left over for sketch books and journals. It has become the permanent centerpiece, and when it's time to eat, I can just set the basket on the counter. No rocket science, I know, but I think I've finally found a solution for us that encourages creativity while keeping the table tidy.
The book you see is Amanda Soule's
Handmade Home
.
Soule Mama
, her blog, is my daily moment of Zen. I truly love it. I'm half way through the book and really enjoying it. To be honest, none of the projects are earth shattering or complicated, but they are not meant to be. Like her blog and her life, they are simple, and filled with meaning. One of the projects we will make for the summer is Meg's Art Tray. Yes, it's just a decoupaged tray, nothing new in that, but the twist is, she uses her kids' artwork to decorate it, and then they are used as portable drawing tables. I love the idea of using child's artwork, and having trays to take outside in the summer while we draw in our nature journals, well, that's just perfect.
And speaking of drawing, here a two from the sketchbook. I haven't had much time for it lately, but it's back to bugs again, one of my favorite subjects. I can't say I'm as fond of them face to face, but I do love to draw them. They are almost like aliens in appearance, so odd when you inspect them up close. How I do love odd things.