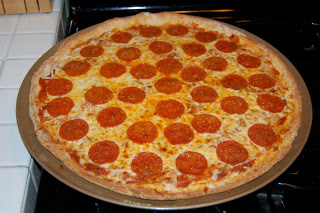 Pizza Fridays have been a long standing tradition in our house. When we went gluten free, I didn't know if that tradition would continue. Premade GF crusts are tasteless, I wasn't impressed with the mixes, so I have been experimenting with making my own. I used to make the regular dough, and quite honestly, GF dough is actually easier! This is our favorite recipe so far, which is based on the recipe on the back of the Bob's Red Mill bean flour package.
For an extra large thin crust pizza:
2 Tbs yeast
2/3 cup bean flour
1/3 cup sorghum flour
1/3 cup brown rice flour
1 cup tapioca flour
4 Tbs dry milk
4 tsp xanthan gum
1 tsp salt
1 envelope unflavored gelatin
1 tsp garlic powder
1 tsp basil
1 tsp oregano
1 tsp onion powder
1 1/3 cup warm water
1 tsp sugar
2 tsp olive oil
2 tsp cider vinegar
In a mixing bowl, combine yeast through onion powder, whisking to combine. Add water, oil sugar and cider, and beat on high for 3 minutes. Spoon into pizza pan, sprinkle with four, and smooth to edges. Pre-bake at 375 for 10 minutes. Add light sauce, cheese and toppings, then bake for 10-12 more minutes.
Enjoy with GF beer, of course!