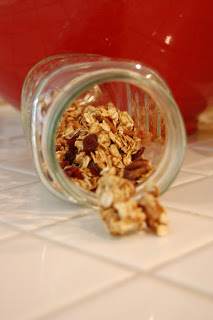 Yes, now I am officially a crunchy granola mom, and it's a mighty tasty thing to be. We have been making this quick but oh so good granola at least three times a week lately. It takes about 20 minutes from start to finish, and it's so easy the kids can pitch in (or even make it, depending on their age). The amounts listed here are just guidelines. I don't actually measure anything when I make it, so feel free to improvise! This can be either a gluten-free or regular granola, depending on the oats you use (please note that some Celiacs cannot tolerate gluten free oats. Fortunately, we can). If you are using regular oats, it's a very frugal granola. Even if you have to buy the pricey gluten free oats, it's still cheaper than GF granola. Amazon.com has a good price on gluten free oats, by the way.
Family Favorite Granola
2 cups oats
1/4 cup pecans
1/3 cup dried cranberries (you could also use raisins)
1/8 cup flaxseed meal (you could use whole flaxseeds, but I always have the ground flaxseeds on hand)
1/4 - 1/3 cup mixture of brown rice syrup and honey (or you could use all honey)
1 Tbs. cinnamon
1 tsp. freshly ground nutmeg
Mix everything together in a bowl. You want it to stick together but not appear wet or really moist. Spread on a silpat lined cookie sheet and bake in 350 degree oven for about 15 minutes. Let it cool. As it cools, it will stick together. Break up the cooled clumps and store in airtight jars. I really can't tell you the shelf life, because it never lasts more than two days around here.
This is really one of those recipes where you can use whatever is in the pantry. We came up with this particular combination because nobody here is allergic to pecans or cranberries, and it happens to taste great! Try it mixed with yogurt Saturday morning or over ice cream. Or do as my family does, and eat it off the cookie sheet on the counter!