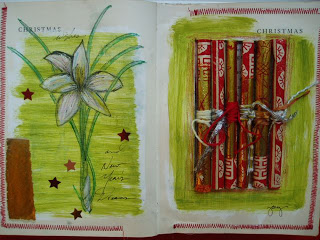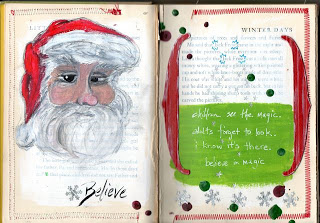 I took a great little on-line art journal class last week by
Rhian
.  There were two options - regular prompts and Christmas themed. It had never occurred to me to create a Christmas art journal! Here are the second and third groups of pages (the first page is in the previous post). It is an altered book, and instead of gluing the pages together, she had us sew them. Love it! So fast and easy, and you can leave openings on the side or top to make a pocket.  Yes, Santa looks a little cross eyed (and my husband believes it looks like him!), but it is an art journal, not a finished piece. To my art journal students, I do practice what I preach. It doesn't need to be polished or perfect, it is a place to explore, and even mess up! 
I'm taking another on-line class with Claudine Helmuth this week. I think I'm getting a little addicted to these virtual classrooms. So convenient, so inspiring, and they keep me working at a productive speed. Maybe I'll do one someday. I love the thought of being able to teach in my jammies! 
Last but not least, I have a new project post on the MDW blog. This week's project is a little mini-album about family. Quick to put together, and the focus is on journaling. Click
here
to check it out!