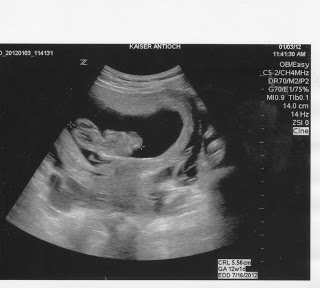 This may explain why it has been pretty quiet around here over the last few months. The little bean is doing well and expected on July 7. I'm also starting to feel like a regular human again, so hopefully things will pick up around here.
As for the New Year, have you picked your word yet? Mine is "mindfulness" this year. Ali Edwards is holding a new
one little word class at Big Picture Classes
, but I signed up last year and never actually did the monthly projects, so I saved them all and have ambitions to do them this time around. After having the kids pour through scrapbooks recently and then ask why there weren't any recent pages about them, I have vowed to try to keep a simple monthly schedule of three layouts this year. Mind you, these will be simple, but that's okay with me. I have plenty of other outlets for design, but I am mostly concerned about recording their stories. I so cherish the pages that I have, and wouldn't have remembered half of those moments if I hadn't recorded them.
The plan? I had a bunch of bags of leftover scrap kit pieces, which I sorted into 12 bags and divided by season. The plan is to use whatever is in there, along with white, black, or kraft cardstock, to create three layouts a month. One will be about Max, one about Madeline, and one will be a family page. Once the baby comes, it will either be one per kid or just an additional page. I'm thinking of printing a page of layout sketches and just choosing from them each month, or keeping the basic layout the same every month and just changing embellishments and patterened paper. We'll see which one is easiest - I'm all about easy right now!
Well, there, I've put it in print. I suppose now I'll have to actually follow through;)