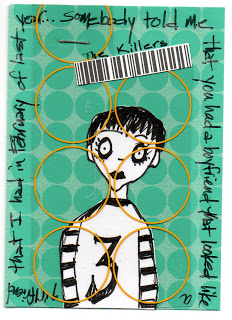 So
Scrapstars
has started a lyrics themed ATC challenge, and now 8 million ATC ideas have been running through my head. Seriously girlies, this needs to stop! I do have to clean my house and feed my kids sometime today!  
This week's card was inspired by the Killer's lyrics "somebody told me you had a boyfriend that looked like a girlfriend that I had in February of last year." I don't have any
Jill Penney and Daniel Torrente stamps
, so I totally ripped off their look with my little Goth boy(girl?). I'll have to save the rest for the coming weeks...