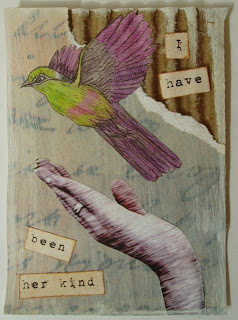 National Scrapbook Day is fast approaching! I'm super duper excited about it this year, because
My Daughter's Wish is hosting FOUR days of activities!
It all starts on Thurdsay evening with another great night of Make'n'Take ATCs, followed by a Friday night scrap, an all day Saturday fiesta from 10am to 2am! and a wrap up Sunday. The events will be full of food, raffles, and mini-classes. Connie and I gave Allison a ticket to the Saturday events, so I'll have a partner in crime;) Sheri is giving away a three day pass on the
blog
, so leave a comment!
This is the ATC I designed for Thursday, so come make one with me! The last open house event was so much fun. I met some really great ladies, the store was packed, and it was a really festive atmosphere. Hectic, yes (I barely got a chance to get a bathroom break in over the whole three hours), but so worth it! Scrappers are just nice people. Seriously, how many mean scrappers have you actually met? It's a hobby devoted primarily to recording the memories of our children and families; something we do for others as much as ourselves. How many mean people do that?