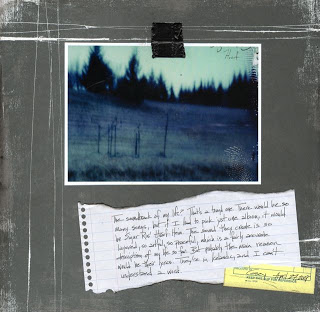 Another challenge! This time it's a scrapbooking one, for a new challenge blog,
Scrapstars.
 It was just started this month by some SISters, and I wish them the best of luck! The challenge was to scrap the soundtrack of your life, including the album cover(s) on your layout. It took me a little while to decide, but I finally settled on Sigur Ros' Hvarf-Heim. This has to be the simplest layout I've ever done, but I really like it. Once I saw the cover of the album, with that beautiful, artsy photograph, the idea for the layout came together in a second. The journaling reads:
The soundtrack of my life? That's a tough one. There would be so many songs, but if I had to pick just one album, it would be Sigur Ros' Hvarf-Heim. The sound they create is so layered, so artful, so peaceful, which is a fairly accurate description of my life so far. But probably the main reason would be their lyrics. They're in Icelandic, and I can't understand a word.