On Monday, Madeline and I had a girls day out. We started the afternoon at My Daughter's Wish, where I told her she could get some scrapbook paper for the Hello Kitty scrapbook she wanted (our next stop). She chose a very girlie purple Daisy D print, but was looking longingly at a pink DD floral. I told her it was her special day, and she could choose more then one paper. Maybe that was a mistake, because she began a full tilt tour of the store, collecting all of the pink and purple prints she could find,"because it was her day and she could have whatever she wanted." She had to add some sparklies and Elsie buttons and stamps, and I have to admit I guided her towards a couple of papers I liked, as well. Her loot: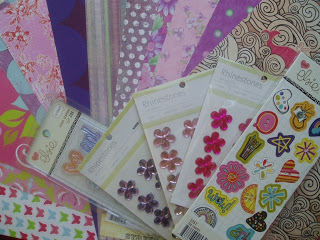 We then made our way over to the Hello Kitty store, for her scrapbook kit. I had told her no stuffed animals, but that's all she kept picking up, and t
hey have come out with a hip little character, so I gave in (but it had to be the miniature version!) I have to admit, I left with more items then M! It brought back so many memories - I loved all of the little stationary and stickers when I was a kid, and spent hours of valuable class time drawing Hello Kitty, My Melody and the Little Twin Stars for my friends. Here's what I left with: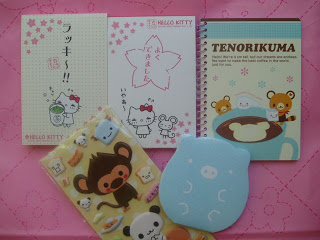 Great little accents and journal sheets for scrapbook pages! We ended the day with lunch at Panera, where Madeline kept repeating how nice it was to be out, just the two of us, without the boys. And it was. I really love spending time with my little girl!