I scrapped the morning away with
Scrap For A Cure's
online crop today, and I'm still working on my layouts, but I wanted to post a few pieces from earlier this week. Productive:
When I first saw this topic, I thought it would be hard. I'm just a naturally optimistic person. But after work this week, I certainly had more than enough to write about!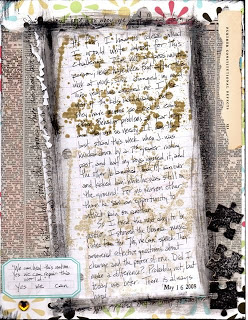 I also want to give a shout out to
My Scrapbook Nook
, who is very generously sending me their May kit as the RAK winner for my last post on Creative Therapy. I am SO excited to get my hands on it - all full of vintage scrap lovelies! Thank you!!!
Next, the
Mixed Media Monday
collage for the theme of transparencies. This was one of those bits on your desk type of pieces. I'm still deciding if I like it or not...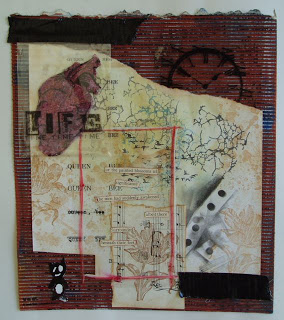 (I had to get Batboy in there;)

Last but certainly not least, I played with Rebecca's embossing technique again. If you haven't checked out her challenge and tutorial yet on the My Daughter's Wish new and improved blog,
then go there now!
It's a very, very cool technique. I made a little mini album to record the highlights of the summer ahead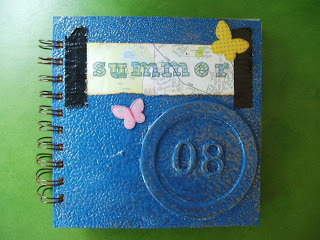 Thanks, Rebecca! Now I have a new favorite technique!