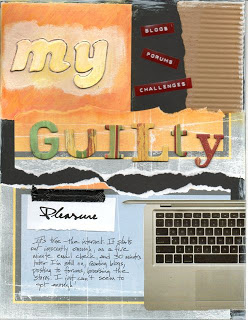 My Daughter's Wish has launched new weekly challenges on the blog! Each week, a designer will post a challenge and yes, there will be prizes! I'll be hosting two in June, but Rebecca has started us off with a fantastic technique challenge with a tutorial to go along with it. It's about using paint to emboss chipboard, and she made two very cool album covers with it.
Check it out here!
I played with the technique on my page for
Creative Therapy
. It's a challenge blog that offers a prompt that you can respond to with any form of art. At first I thought I'd use my art journal, but then I decided to make a separate 8.5x11 book for my entries. When my kids get older they'll have something about me that offers a different insight then the normal scrapbook. So here's catalyst #8 - Guilty Pleasure. I tried Rebecca's embossing technique on the "my" portion of the title. It was my first attempt, and I learned a few things. Instead of using naked chipboard, as in Rebecca's example, I used covered chipboard letters and painted them. When I was embossing, I overheated the powder in an attempt to get more bubbles (I wanted that really textured look). Unfortunately, the color from the letters bled through a little. A decided to ink over the whole square with marigold distress ink, and overall, it came out pretty well. I am definitely going to play with this technique again, but with naked chipboard!