Matt gave me the book, Sweater Surgery, for Christmas, and I finally worked up the courage this weekend to pull out the scissors and cut one up! I had visions of the sweater unraveling as soon as I made the first slice, and all being lost since I don't know how to knit. (I would love to learn though. Hint. Anyone? Anyone?) To my surprise, not only did the sweater stay together, it turned out to be very easy "material" to work with. My first project is still in progress - a formerly navy quarter zip sweater of Matt's from Land's End has now become a short sleeved cut away cardigan. I haven't quite found the perfect fastener for the front yet, and I'm thinking of felting a design on the back. My second creation was this one: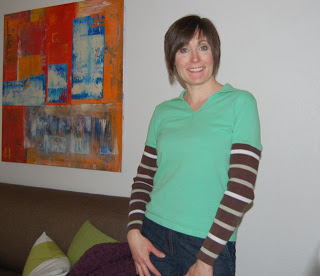 It is simply the sleeves of an old turtleneck sewn into the green sweater.As it was, the green sweater was nice, but a little too conservative for me. Now that it has a little rock 'n roll, I love it!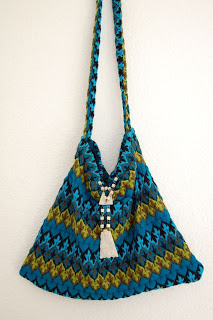 This purse was once a skirt! I loved the tube skirt, but after having two kids, it was just wrong to wear it anymore. It took maybe twenty minutes to make, since the skirt was lined. I cut off the bottom, added a pocket inside, sewed it up and used the extra for the strap. The closure is from an old necklace.
So now I am officially obsessed with altering clothing. All of these pieces came out of my give away bag, and there are still more in the works. It is so much fun to combine different garments to make new ones, and so much quicker than sewing from a pattern! Grab an old sweater and give it a try!