Time for page three. If the interior papers you are using are not double sided, you might want to consider inking or stamping the blank side to add interest to the back of the page.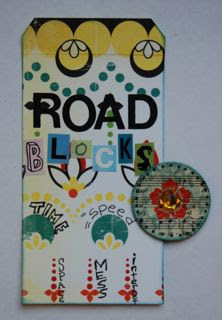 Page Three Topic:
What roadblocks are in your path? What might hinder your progress towards your word this year? List them here! Once you've identified them, you'll be better prepared to handle them when they appear, or prevent them altogether.
How I made my page:
Another Cosmo Cricket "Hello Sunshine" paper, edged in blue ink. I used letter stickers for the title, and then wrote my roadblocks directly on the page.
Page Three Tab: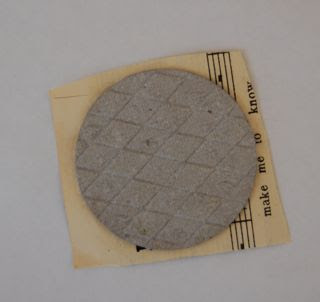 Step One:
Use Glossy Accents or gel medium to adhere old sheet music scrap to textured Grungeboard. Rub the paper a bit, so the texture of the grungeboard shows. Trim around the edge.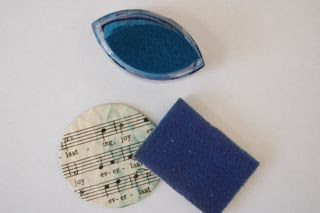 Step Two:
Use an ink applicator to apply ink lightly to Grungeboard, highlighting the texture pattern. Add additional ink to edges. Apply a sticker or rub-on to the center, and maybe a little "bling", too!
Tomorrow we'll make the last page and add a fun technique to the back cover!