Today we'll start on the inside pages. There is a topic for each page, and instructions for making a tab. How you design your page is up to you. You could use journaling spots, scraps of lined paper, text strips, stickers, or simply write directly on the paper. These are BRIEF compositions (it is a tag book, after all). However, you could use the same topics in your journal/art journal if you'd like to expand on them.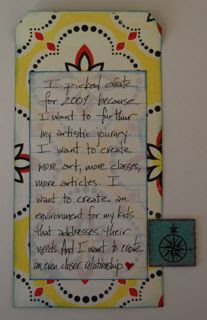 Page One Topic:
Here's your sentence starter, "I picked (your word)___ for 2009 because__________________."
How I made my page:
I used a Cosmo Cricket "Hello Sunshine" paper for the page, and edged it with turquoise ink. The journal spot is a swatch of binder paper edged in the same ink.
The Tab:
Ink a small square of Grungeboard and edge it with an oil pastel (I used red for contrast). I chose a compass rub-on by 7Gypsies as my image, to indicate the "direction" I want to go in this year!
That's it! Tomorrow we'll be assembling page two. If you have any questions/comments, you can post them here or email me using the link on the right. Have fun!