This was my favorite page to make. I was surprised at how the words seemed to flow perfectly, even though this was all free association. The key to this one is to quickly write down the words that come to mind - no pondering, no editing, just list!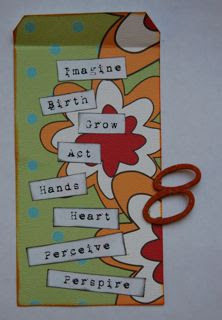 Page Two Topic:
Choose a chipboard or Grungeboard number greater than two. Now, write down the first 8 (or whatever number you chose) words that come to mind when you hear your word for the year. This is a free association exercise, but you may be surprised at the insight you gain from it. Put these words on page two.
How I made my page:
The background is from Paper Trunk's 1974 collection, edged with orange ink. I typed out my words on the computer and glued the strips on the page (I did ink the edges in black, first).
The Tab:
I colored the Grungeboard number with orange ink, then went over that with an orange glitter gel pen to give it a little sparkle.
Remember to check
here
to see if you won one of the class kits. The kits were from My Daughter's Wish, and each is slightly different - you may get a different number, or different grungeboard shapes, but all of the essential elements for the book are in there. For my blog winners, I'm also adding the paper for the pages. Again, each kit is slightly different, so some of the patterned paper may not be the same as the ones I used here. At the end of the week, I'll post a permanent link on the right side of the page to all of the lessons, so you can construct the book at your convenience.