I am definitely on a summer sewing binge, even though the skies are gray and we've had showers on and off for the last two days. It's been such an odd spring for our neck of the woods. Spring here usually means kinda hot, until we hit the hot weather in June and the please don't let my air conditioner fail me sweltering days of July and August. I am hardly complaining, though. I am certainly no fan of 100 degree weather, but in preparation for it, I've been making sun dresses. This one is my favorite, so far.
The hanger just doesn't do it justice - it is so cute on! It's a combination of patterns -
Made's
Summer Vacation Dress
and the free
Leisurely
dress pattern form the
Sew Mama Sew
blog. Last summer I got hooked on shirring (using elastic thread to create a smocking effect) and this year it's becoming an obsession. I just bought four spools of elastic thread, so no fabric here is safe! The shirring on the pockets was from Dana's pattern, and I love it!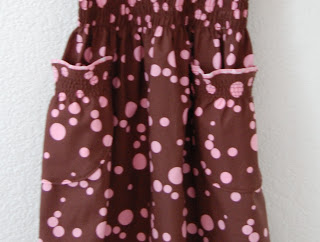 Sadly, I'll have to put away the elastic thread for now, because Max wants some shorts, and I don't think the boy is interested in a smocked pair. What are you sewing for the summer?