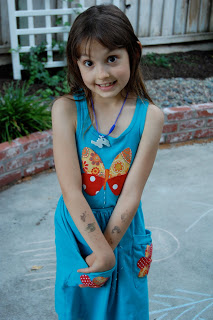 Well, I have been making a small dent in my stash over the last few days, still on the
Great De-Stash Challenge
. This dress of Madeline's got the scrap applique re-do a little while ago.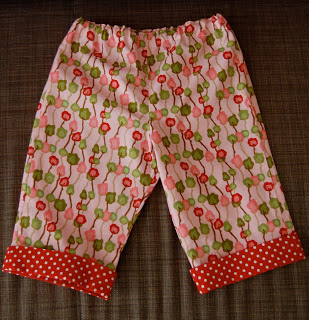 One finished pair of baby pants, hooray! I have 5 more cut out and ready for the machine. I also have three pairs of shorts fresh from the cut table, and two Halloween dresses in the planning stage. Yes, I bought new fabrics for the dresses because I didn't have enough black and white in my stash, and the dresses have to be matching. The ruffle, at least, is from the fabric closet!
I am very excited about yet another commitment I've dropped on myself - The Sketchbook Project. Each participant signs up for one of their given themes, pays a $25 fee, and is sent a Moleskine sketchbook to fill by January. The books will be touring the country and eventually come to their final resting place at the Brooklyn Museum. I chose the theme "sorry I forgot you." I felt it gave me plenty of leeway in how to interpret it. The books will make a stop in San Francisco, which will be cool to see mine, and hey, it makes me keep a regular date with my sketchbook. I need the deadlines right now. If it doesn't have a deadline, it doesn't get done. (which is why I'm getting so much sewing done - gifts have deadlines!)
If you draw, or work in mixed media (the book has to stay pretty slim, however), then you should really give a thought to participating. Like the 1000 journals project, it gives everyone an opportunity to share their art, and I love that. It also gives you a kick in the pants, and I love that, too.
School is in full swing now, both at work and at home, and I'm still working on refining my "me time" schedule. Posts may be publishing at odd times for a little while, as I work out the glitches. But today I was able to take my sweet girl out to lunch while everyone else was in school, and it was lovely. The days are certainly full, but the stress level, and the sanity, is so much better!