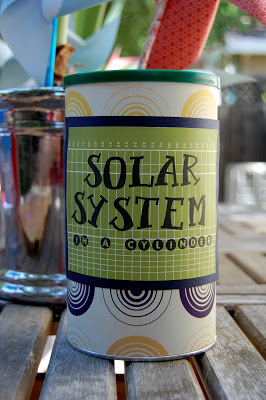 I was browsing the
Playful Learning
and
Imagine Childhood
websites this weekend, and their products reminded me how much I love kits. The passion started early, when I would walk into those Sanrio mall stores and salivate over the little boxes filled with Hello Kitty stationary, stickers, and miniature pencils. Years later, I loved walking the aisles of Papyrus, lingering over the beautifully packaged cards and wrappings. Oh, and gift baskets, with all of those special little treats all bedecked with ribbons? Sigh.
Educational kits are fabulous, but often expensive. Why not make them myself? I could tailor them to what we are studying this year, use up some of those craft supplies that seem to breed in our home, and maybe motivate the kids in the process? Introducing....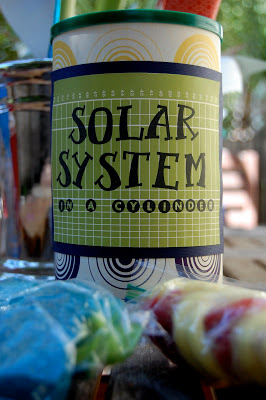 Yes, the entire solar system in a can. Actually, it's a bunch of wool roving in a decorated coffee can. I chose bits of roving in colors to match the planets, then packaged each in a baggie (to protect it from the coffee smell that still filled the inside of the canister). The kids first had to decide which baggie was which planet (with the help of a book we read on the solar system), and then we tried turning the wool into felted balls. We used a You Tube tutorial at first, but it didn't go so well. Darling son said the wool made his hands itch and promptly left the activity. Considering he's allergic to everything, I didn't argue. Then I recalled that
Amanda Soule
had a tutorial in
The Creative Family
. I knew it would be kid friendly and easy, and it was. We used the kitchen sink instead of bowls outside (it was ninety degrees, after all), but the balls came together much better. I highly recommend the book, by the way. It's full of great projects and packed with good old fashioned inspiration.
Interest lasted for about two balls (it is time consuming), so I ended up doing the rest. I loved the process - very meditative. We set them outside to dry: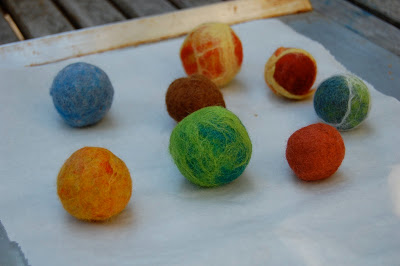 The kids have checked on them several times now, and are more excited about putting together a mobile with them when they are done. I haven't decided what to make the rings out of yet. Felt? Colored wire? I'll probably let the kids have the final say. Overall, they enjoyed most of it. I liked using up some supplies and having a project wrapped and ready to go. I have one other kit done that I will share next week, and more in the planning stages. Maybe I need to make a few adult ones as well. Who says that kids are the only ones allowed to have fun?