A few random bits for today. First off, if you are still making Easter decorations (as I am), you'll love this tutorial from
Made blog.
It's a Peeps banner!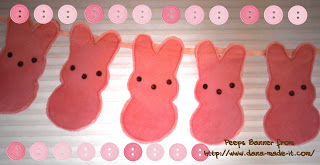 It's a gray, rainy day today, so I tried to dress up the dull picture a bit;) It really is an easy and great looking banner. Her blog, by the way, is AMAZING. How did I not know about it before??? If you haven't been there, you should visit, and if you have a boy, you should check out her side link for celebrate the boy month. There are some great projects, especially if you are sewing for a toddler. Max is past that age, but I still found some neat stuff, and he's so skinny, many of the toddler pants projects would probably work anyway, with some added length.
Next up, it is March muffin madness at
GFE
. Now, why did she have to go and do this when I have a dining room table covered with sewing and art projects? Now I just want to go bake muffins! Muffins are BIG around here, and I can never freeze any because they all get eaten before I can, even when I make double batches. Yes, I will be baking up many of those delicious recipes on her site, and I'll post about them as I do. I can't wait to get baking! And finally: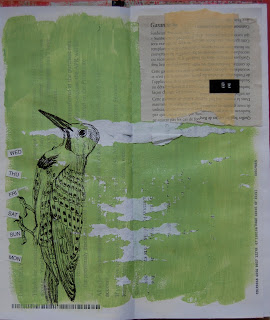 another page from the bird book. Hold on to your hats kids, because tomorrow I'll be posting the tutorial on how to make this junkmail art journal. I'm sure you have all of the supplies you need in your craft cabinet and recycling bin! Hold on to that junkmail today and we'll put it to use tomorrow!