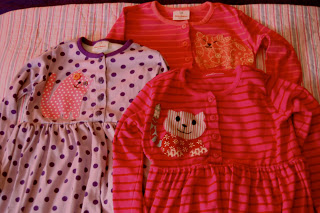 I traded the pen for the needle this weekend, and managed to get a few projects crossed off my list. The top priority was Madeline's dresses. She has four beautiful Hanna Andersson dresses that she won't wear because they don't have cats on them. Seriously, she will not wear anything unless it has a cat on it. So, I searched online for some simple cat coloring pages to use as templates, and appliqued cats on her clothes. I have to admit, I was a bit nervous at first. These are
Hannah Andersson
dresses, after all. Madeline, however, was delighted with the results, and I am, too. They really do look like Madeline dresses now, and hopefully they won't sit at the bottom of her drawer anymore.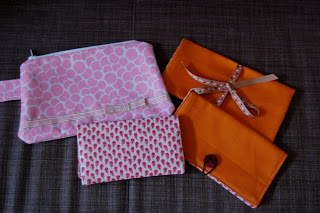 My other project was a little wristlet from
Sew Darn Cute
. I altered the pattern a bit, since the printer was out of ink and I couldn't blow up the one that was included in the book. I made some mistakes, but in the end I think it came out okay. I will shorten the strap next time, and alter the sewing in of the zipper just a bit, but overall it makes a cute little purse. My one complaint with the book is that there are only written instructions - no diagrams. It's very hard for me to sew without diagrams; I rely heavily on them to make sure I understand the written directions. I have the
Stiched In Time
book from Bookswim right now, and it also relies heavily on written instructions (though there are a few process pictures here and there with the projects). I suppose that's why I love
Bend The Rules Sewing
and
Weekend Sewing
(which the checkbook cover/coupon books are from)so much. The diagrams are so clear, you only need to read through the directions once, or even just skim them for some projects. Maybe if I were a better seamstress it wouldn't matter so much, but since I'm low on the sewing chain, I love those step by step pictures!