**Blogger is having issues. I uploaded a new banner yesterday, a picture, and today's picture, and all have disappeared, with error messages. Sorry! Hope it gets fixed soon!
I got a Yudu machine this weekend! It's that new screen printer from Provo Craft. Matt had tried to get me one for Christmas, but they were all sold out. Michael's had a good deal on it last weekend, so I decided to take a step up from Sharpie t-shirts. Way back in the Stone Ages (of middle school and high school), I did a little screen printing. This machine changes the process a bit. Now, I have to run a disclaimer here - I have only used it once. I've run into a few roadblocks in my quest to pull a bevy of t-shirts. I started by scanning a sketch into Photoshop, cleaning it up a bit and adding text. Next, I grabbed my printer transparency that came with the machine, and ran it through the printer. It ran right back out, telling me I was out of paper. I tried it again, with a different paper setting; same thing happened. After messing with all of the available settings, I looked up Epson on line and discovered that my printer won't do transparencies! Nuts. (Yah, Cannon, my next printer will be coming from you!)
No worries, you can draw with a Sharpie on the transparency instead. So, I traced my template and even the text looked just like the print out. Next, I adhered the photo emulsion sheet to my screen. This was new for me. Back in the day, I painted the emulsion on. After it dried, I placed the template on the machine's light table and burned the screen. However, when it came time to rinse, some of the detail lines on the template image began to peel off. I am guessing the screen may not have been wet enough when I put the film on, or maybe the kitchen was too bright. Time to do a test run on scrap fabric.
My first pull wasn't so great - the text was over inked. My second pull was better, so I loaded up a t-shirt for the next pull. Well, it took a few runs to get the image filled in, and some detail lines were still a little faint. My big guffaw happened when I took the t-shirt off - I accidentally hit the collar on the wet squeegee, so I had a nice fat, black ink mark on the top. Yikes! I tried to carefully pull the wet shirt off of the platen, which wasn't easy because the adhesive on there is really strong! I finally got it off and rushed to the sink, trying to wash the collar without getting the print wet. Here's the result: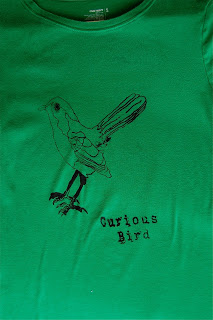 Okay, so the first run wasn't perfect, obviously. I spent some time poking around the web and YouTube, watching videos. I have noticed that I was definitely not using enough ink, and I probably should have weighed down the machine even more during the burning process. I discovered someone who made their own platens (the form you put your shirts on for printing) from plastic board (which is great, because those things are $20 each, and you need multiples if you are going to make more than one shirt at a time), and I also discovered that you can use the liquid emulsion on the screens. I think the liquid is better than the photo sheets, and much, much cheaper! Yudu supplies are expensive, and the machine is very large. However, I love that the burning, drying and pulling are all done on one unit. The screens are not the best quality compared to professional screens (which are much tighter), but I think for the work that I do they will be fine. As I play with this more, I hope I can find other ways to keep the cost of production down.
I had hopes to run some more designs last night, but the girl came down with a wicked fever and flu, and I spent the night taking care of her. Hopefully I'll have something new to share with you tomorrow, as long as her fever stays down!