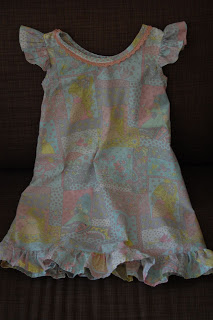 I had ordered this
Patch Blue Storybook
fabric from Sew Mama Sew in January, without any plan for using it. I just loved the retro 70's look. It reminded me of sheets I had when I was a kid. Madeline saw the fabric recently and said we should have matching nightgowns. Well, I'm not so keen on nightgowns, but I made one for her. It is a quilting weight cotton, so it doesn't drape as nicely as a lighter fabric, but it still looks darn cute on her. It's Butterick 6659, with a little alteration in the length. As for the matching part, I had to order another couple yards for me, but I think I'll be making some sleep shorts for myself.
I made a quick pair of shorts for Max from an old men's knit shirt, and cut out a shorts and top set for Madeline last night. I really should pick up my sketchbook today; it's been neglected for far too long. It is the Solstice though, so I think
banana ice cream pops
and playing in the sunshine would be a better plan for today. What's on your sewing/craft table?