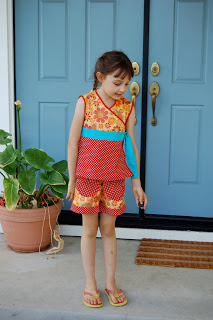 Oh, this is definitely my favorite outfit so far! Madeline and I were at our local quit store,
Sew Ewe Quilt
last week, in line for cutting with an arm full of fabric bolts, when she saw the yellow print. "I want to make shorts out of this," she said. Now you must understand, if it's not pink, or doesn't have cats on it, Madeline usually has no use for it. Yellow, orange and red? You bet, baby! We had the red polka dots in our stack, and it just matched so perfectly. "Why don't we put these two together?" "Sure" she said. Taking her to the fabric store is just as dangerous as letting me go!
The pattern is Simplicity 2677, bought for $1 at a recent Joann sale. I added pockets and the cuff to the shorts pattern, but the only alternation I made to the top was using the different fabrics. Oh, I love those prints!
I think it's time to put the fabric away for a few days. I'm sure my husband is tired of seeing the ironing board in the living room, my back is giving me grief, and three t-shirt designs are swimming around in my head. Need to squeeze in some sketchbook time today. Three dresses, three pairs of boys shorts, one t-shirt, one nightgown, and this shorts outfit. Not a bad haul for summer sewing, and more patterns have been cut. Of course I should be working on my Etsy store; sorry to those who keep asking! Can you send me a few more hours in the day, please? I would put them to good use!