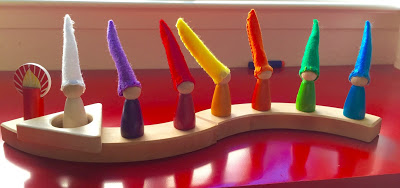 This summer the wee one turned three, and I thought he might be old enough now to incorporate some little Waldorf inspired bits in the house. Fingers were crossed that they wouldn't get ripped apart immediately or sent to permanently live in the train cars or truck beds. There are some lovely Waldorf toys in catalogs and on Etsy, but I was looking to create some pieces from what we had on hand.
First off, I wanted a Days of the Week calendar. In Waldorf, each day of the week has its own color. I used two pieces of our birthday ring for the base, a wooden candle from a play food set, and a wood teething ring (!) for the day marker. The gnomes are just simple peg dolls that have a small base which fits perfectly in the ring. I decided not to write the days on the peg dolls since he can't read them anyway, and the color signifies to the little ones what day of the week it is. I was thrilled to get an additional use from the birthday ring.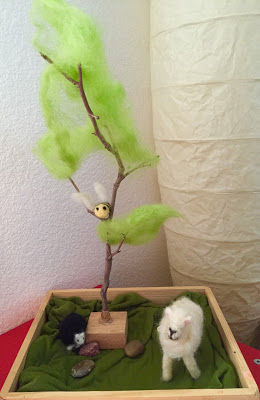 I felt that now he was finally ready for a nature table, but I didn't have a good spot in the house for it. So I found a wood tray (I think from a Doug and Melissa set), threw in a piece of green knit fabric and we had a nature tray! The tree was made from a twig that I glued to a block and used a bit of wool roving for the leaves. For the first week I just had the tree and some rocks.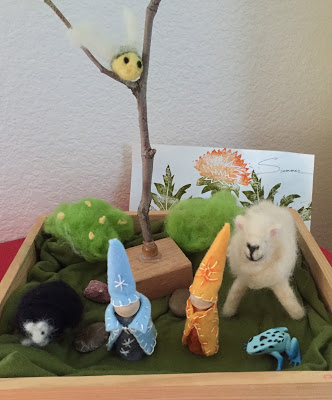 Over the next few weeks I added the bushes, some felted animals, a rubber frog to represent some we found in the creek, and sun and moon gnomes. There is a little summer sign with a hand cut stamp, and I used a Scrabble tile holder as the base.
He likes to play with the pieces (as I knew he would), and sometimes they migrate to other places, but that's okay with me. He enjoys them, I didn't have to purchase anything, and they look cute on the bookcase!