Friday, February 19, 2016
Monday, August 24, 2015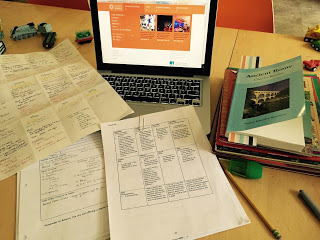 I have a guest post today about planning for the school year over at the
Waldorf Essentials blog
. Please pop over and check it out!
Tuesday, August 18, 2015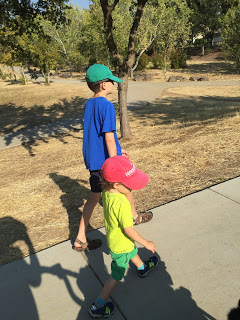 Well, it's that time of year again, when we homeschoolers don't go back to school. We started our day with a walk to the park, and unfortunately, the timing was just wrong on this shot so I didn't capture their sweet hand in hand stride.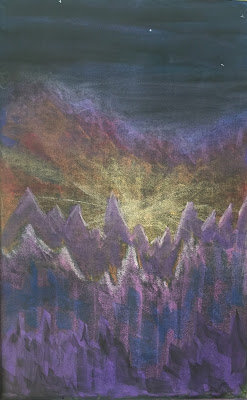 Both kids are starting off with sound for physics this year, so our first board went with the poem by Rumi, "The Breeze at Dawn."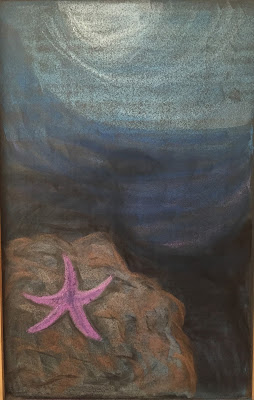 Alex got his own board to match the ocean theme of his nature table this month. We have been making little felt creatures to go with it, but more on that in the next post.
Two days in and we all survived. It's a heavy academic year, with both kids in middle school, and the planning this summer was tremendous. I know it will pay off, but I have to admit that I am somewhat mourning the loss of my last month of summer! It is fantastic to be back in that learning rhythm. I do like having more structure to the days, and that sense of accomplishment when items are checked off of the to-do list. The school rhythm is a work in progress, as right now I only have academics scheduled. I'll be using the next two weeks to figure out where to add in form drawing, handwork projects, exercise for the kids and piano. Yes, form drawing in middle school. We haven't done much of it, since we came to Waldorf late, but I think both kids could still benefit from it, especially to improve handwriting. Madeline enjoys it; she says she finds it meditative. Isn't it fantastic when they unexpectedly express exactly what is supposed to be happening on a deeper level? Then you really know this "crazy" Waldorf stuff is working!
Thursday, July 30, 2015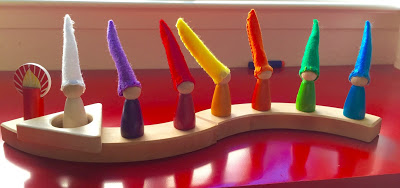 This summer the wee one turned three, and I thought he might be old enough now to incorporate some little Waldorf inspired bits in the house. Fingers were crossed that they wouldn't get ripped apart immediately or sent to permanently live in the train cars or truck beds. There are some lovely Waldorf toys in catalogs and on Etsy, but I was looking to create some pieces from what we had on hand.
First off, I wanted a Days of the Week calendar. In Waldorf, each day of the week has its own color. I used two pieces of our birthday ring for the base, a wooden candle from a play food set, and a wood teething ring (!) for the day marker. The gnomes are just simple peg dolls that have a small base which fits perfectly in the ring. I decided not to write the days on the peg dolls since he can't read them anyway, and the color signifies to the little ones what day of the week it is. I was thrilled to get an additional use from the birthday ring.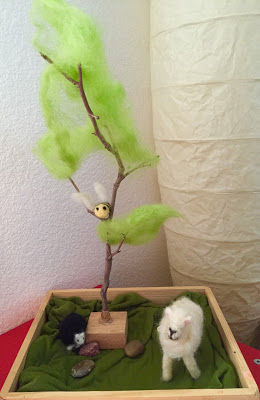 I felt that now he was finally ready for a nature table, but I didn't have a good spot in the house for it. So I found a wood tray (I think from a Doug and Melissa set), threw in a piece of green knit fabric and we had a nature tray! The tree was made from a twig that I glued to a block and used a bit of wool roving for the leaves. For the first week I just had the tree and some rocks.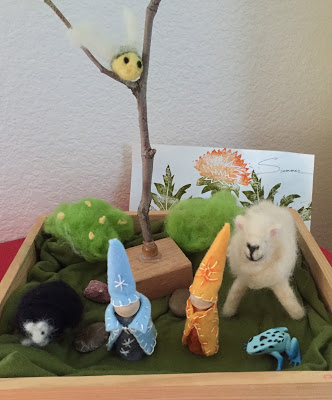 Over the next few weeks I added the bushes, some felted animals, a rubber frog to represent some we found in the creek, and sun and moon gnomes. There is a little summer sign with a hand cut stamp, and I used a Scrabble tile holder as the base.
He likes to play with the pieces (as I knew he would), and sometimes they migrate to other places, but that's okay with me. He enjoys them, I didn't have to purchase anything, and they look cute on the bookcase!
Posted by

Casey
at 11:06 PM
1 comment:

Sunday, May 31, 2015
Exhale. The combination of a toddler and technical issues with Google has left this blog quiet for far too long. There are many posts in the works, if the tech gods continue to be on my side;) For now I leave you with this week's chalkboard drawings, my favorite Waldorf obsession: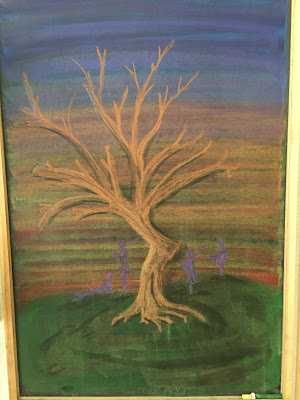 Soldiers' Tree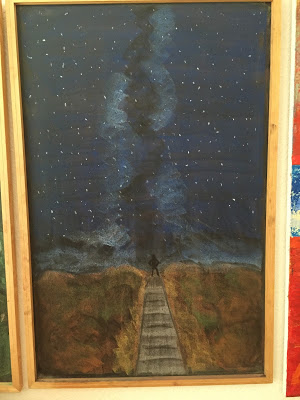 Wish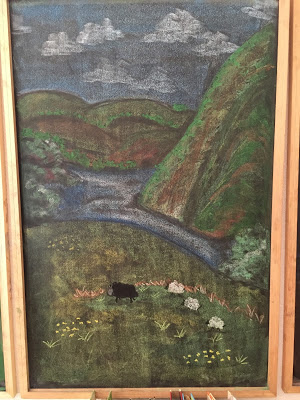 Baa Baa Black Sheep

Posted by

Casey
at 7:43 PM
No comments: